We want Rostrum to be an attractive place to join, a great place to work and a company that you'll have happy memories about long after you've left.  We work hard, we push ourselves to be better and we're always in search of excellence – but we also work to create a fun, relaxed environment where everyone can be themselves and reach their potential.
Every Rostrum employee has a personal development plan and training programme, and we commit to spend around £1,000 on training each team member every year.  We offer a compelling mix of benefits and rewards including 25+ days holiday as standard, an extra day off or for your birthday and another for your Rostrum anniversary, and unlimited holiday after you've been with us for three years.
Our employee satisfaction scores are regularly above 90% and we encourage everyone at all levels to share their thoughts and opinions on what we can improve. We've been around now since 2004 so we have learned a few things along the way and we know what it takes to succeed in the industry. Our people are our biggest asset, so we're extremely selective about who we hire.
Rostrum also provides the team with unlimited (complimentary!) snacks every day. These include a wide range of items from fresh fruit, biscuits, chocolate and crisps to protein bars, smoothies, instant noodles and soup, all of which are re-stocked each week. We provide expense accounts to every team member and organise numerous socials, away days and activities – which you can choose to attend or not. Everyone has the opportunity to work flexibly when required and we encourage a flat, open structure where all levels of the agency – from the newest members of the Rostrum team to the leadership – engage, work together and are heard.
We reward talent
Rostrum is very much a meritocracy – we believe in rewarding talent and great work wherever it manifests.  There are no barriers to promotion, advancement and improving your pay and benefits at any time – if you're good enough, if you're delivering consistently and you deserve it, we will recognise and reward you, either within your current role or with a promotion to the next step.
If Rostrum appeals to you and you think you have what it takes, we want to hear from you – email us at pleasecanihaveajob@rostrum.agency.
Maximising results through integrated b2b marketing
Our free guide to integrated b2b marketing explores the ways in which brands can develop a strategic and integrated marketing approach. It provides businesses with tips on how to create a content ecosystem that truly engages their audiences, as well as tactics for generating measurable results and real sales opportunities.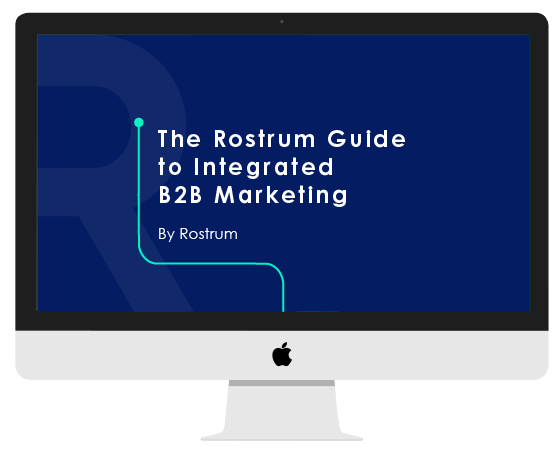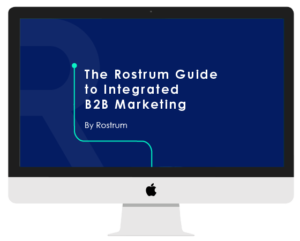 Latte is our external talent partner. Any CVs/career enquiries submitted to Rostrum may be shared with and handled by Latte Recruitment.